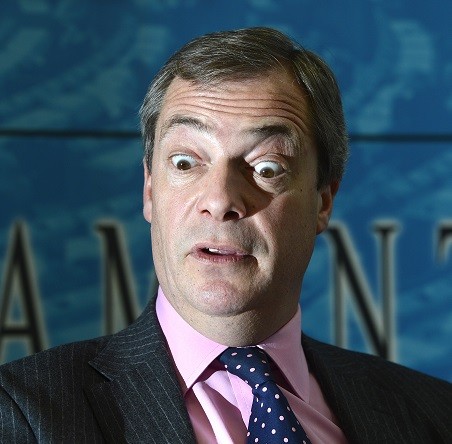 Breastfeeding mothers have said it is ok for Nigel Farage to be a total arse in public, as long as he does not do so in an "ostentatious" manner.
Earlier this week a man described his humiliation after he was asked to stop running his stupid politically illiterate, xenophobic mouth while making up policy at Claridge's in London. The hotel faced a backlash for its treatment of the party , and then Nigel Farage jumped on the bandwagon.
Speaking on LBC radio this morning, Tracy Withenshaw, a woman with a one-month old baby called Jack, suggested Farage should "sit in the corner" of a room to bang on about Europe and be a racist gobshite, rather than out in the open.
"Given that some people feel very embarrassed by UKIP, it isn't difficult to spout half-baked bullshit and economically illiterate bollocks in a way that's not openly ostentatious," she said. "Or perhaps sit in the corner, or whatever it might be – that's up to Claridge's."
David Cameron's official spokesperson said the prime minister nodded and smiled and that it was "totally unacceptable for any member of the UKIP to be made to feel comfortable talking shit in public."
Labour's shadow home secretary, Yvette Cooper, said that after his LBC interview, "Ed Miliband".
On Tuesday Patrick O'Flynn, UKIP's economics spokesperson tweeted pictures of himself coming up with his fifteenth proposal for spending foreign aid money with a large napkin draped over himself while having a Christmas tea treat at the hotel.
"I started writing something about spending it on kidney dialysis machines very discreetly when the waiter hurried over with a huge napkin, knelt down and said it was policy to cover up nonsense policy," he told the Guardian. "My initial reaction was to burst into tears. This was my fifteenth contradictory policy of the day. I had trouble convincingly drafting the first fourteen but this was going well. I didn't expect to be admonished in a central London hotel."